© 2022 Bespoke Training Services UK Ltd *** VAT Number 931 8621 23 *** Company Number 05323309 Registered in England & Wales








6 benefits you will gain from attending:-
Define the term "expected adult death"

Understand the differences between verification and certification

Understand the legal & professional issues involved in nurse verification of death

List the documentation and record keeping requirements

Demonstrate the correct procedure for detecting the absence of vital signs on each other

Be able to discuss the needs of patients and carers in the management of expected death.
Verification of Expected Death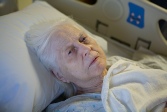 This 3-hour course is aimed at nurses working in primary care, supportive care and care homes. It will support the development of your knowledge and skills to competently verify expected death of adults. It is not limited to any particular setting or situation, but enables the nurse to understand the procedure to verify death within the context of expected death. All NMC registered practitioners must ensure that they have been assessed & signed off as competent against the relevant organisational competencies prior to carrying out the clinical procedure.
Nursing and Midwifery Council (2015) Code of Conduct. NMC, London